The Rugged and Efficient Chevy Trailblazer SUV at Bunnin Chevrolet of Fillmore
The Chevy Trailblazer is an appealing crossover utility vehicle with a sharp exterior, excellent fuel economy, ample interior space, and agile handling. Passengers love the generous legroom of the cabin, particularly in the rear seat. Unlike other compact utility vehicles, the Trailblazer is comfortable for adult passengers in the rear seating area. All trims offer lots of features, and the exterior is eye-catching. Drivers can add lots of options, including a roof rack and a trailering package.
Looking for a crossover that offers lots of bells and whistles? Drivers near Fillmore can depend on the Chevy Trailblazer to provide modern amenities to make road trips fun and comfortable.
What's New?
The latest Chevy Trailblazer receives very few updates for the newest model year. However, more exterior paint colors have been added, including Crimson Red and Mahogany Red.
Trim Levels
Drivers around Simi Valley will appreciate that the Chevy Trailblazer offers just four trims to choose from:
LS or base trim
LT - includes the ability to upgrade from the base engine
Activ - consists of a heated steering wheel standard
RS - the fully loaded trim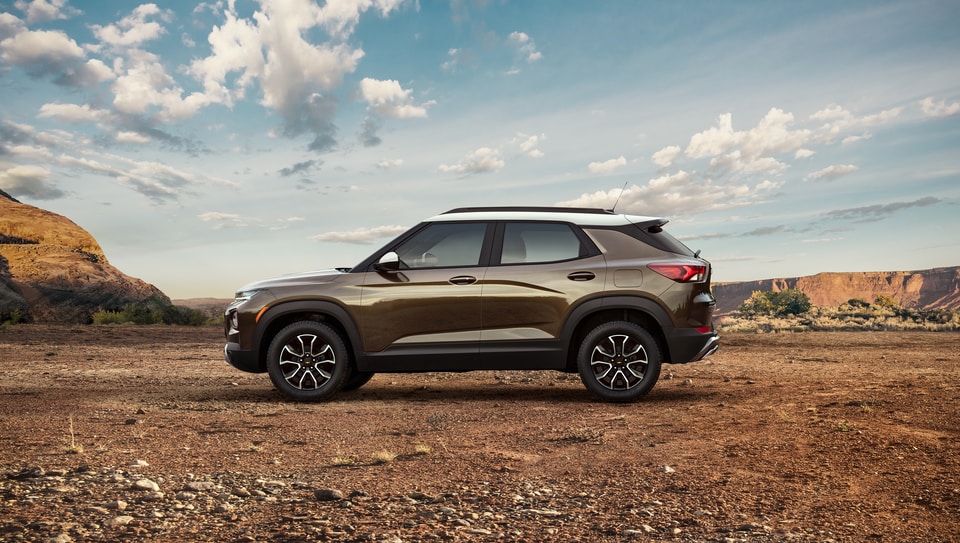 Performance
You can get the Chevy Trailblazer with a number of engine choices. There are two different turbocharged three-cylinder engines. One is a 1.2-liter three-cylinder that provides up to 137 horsepower; the other is a 1.3-liter offering drivers near Valencia up to 155 horsepower.
When choosing the 1.2-liter three-cylinder, drivers should know that this engine choice is paired exclusively with a continuously variable automatic transmission and front-wheel drive. However, those wishing to procure an all-wheel-drive Trailblazer will want to opt for the 1.3-liter engine. Drivers may also swap the CVT transmission for a nine-speed automatic transmission with this option.
The Trailblazer provides lots of pep around town, but drivers will need to call on the three-cylinder engines when out on the highway for merging and navigating traffic. However, the Chevy Trailblazer is quite nimble where handling is concerned.
Drivers near Thousand Oak should also be aware that the Chevy Trailblazer isn't officially rated for towing; however, Chevrolet does list a maximum trailer weight of 1,000 pounds. Tongue weight should not be over 100 pounds.
Interior, Infotainment, and Technology
The Chevy Trailblazer's interior is spacious and functional. Drivers near Fillmore will want to choose a higher trim level to garner a few more amenities, such as a larger infotainment touchscreen, navigation, and additional safety features.
Drivers will appreciate that this smaller sports utility vehicle sits higher than a sedan. Adult passengers will enjoy the ample legroom in the back, and at least two adults can ride on the rear seat comfortably for longer trips. Also, the cargo room is spacious, offering 25.3 cubic feet of storage space. However, the back seat can fold flat, which increases cargo space to 54 cubic feet.
The Trailblazer has a folding front passenger seat, perfect for hauling longer items inside the Trailblazer.
All Trailblazers offer a seven-inch touchscreen, and access to Apple CarPlay and Android Auto is available. Upper trims will offer access to an optional Technology package, which allows multiple wireless connections. Bluetooth is standard, and two smartphones can connect to the infotainment software at one time.
All Chevy Trailblazers come standard with a four-speaker stereo system.
Safety
All Chevy Trailblazers offer some essential standard safety features. These include automated emergency braking and pedestrian detection. Also standard on the Chevy Trailblazer is a lane-departure warning and lane-keeping assist. On higher trims, adaptive cruise control is available.