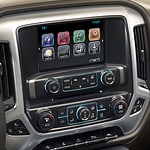 Apple CarPlay is an innovative and user-friendly way to access your favorite apps, music, messaging services, and navigation while driving. By utilizing this feature, you'll be able to keep your eyes on the road and hands on the wheel without worrying about missing anything important. With Apple CarPlay, it's never been easier or safer for drivers to stay connected!
Apple CarPlay also keeps you informed and up-to-date with real-time traffic updates and points of interest. You can quickly get an estimated arrival time for any destination, so there are no surprises on the roads of Fillmore, CA. Apple CarPlay is entirely customizable to ensure you always have access to the features you need while driving.
Enjoy the luxury of convenience with Apple CarPlay! It's easy to use and requires little effort on your part. No need to purchase a separate head unit or install any additional hardware, plug in your iPhone, and you're ready to go. With wireless capabilities, if supported by your car, you can drive without touching your phone. This unique hands-free experience makes life so much easier!